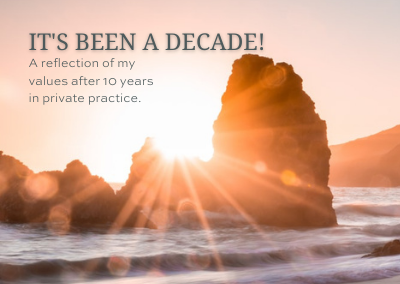 11/11/21 marked ten years for me in private practice. That's a decade, wow! After ten years, I left my last career, and I feel like I'm just getting started with this one.
I'm genuinely grateful for all the humans that have trusted me and continue to trust me in being together. I learn so much from you, thank you. Please never underestimate your value.
Recently, I have been thinking about my values as I have grown both personally and professionally and decided to sit down and give words to the driving force behind Inner Flow Counselling | Wellness. Here's what I'm currently feeling into and how I'm framing them:
REVERENCE OF APPROACH: "When our approach is one of reverence, we find ourselves falling into a deeper embrace with all that is open to encounter, both internally and in the surrounding, breathing world." ~John O'Donohue
IMAGINATION: as a deep resource for healing and foundation for connecting with Great Mystery.
DIGNITY: state & sense of honouring and being in respect.
REVELATION: express permission to be continually emerging into truth.
EMBODIMENT: the act of purposefully consciously inhabiting our bodies, relationship, and lives.