Embodiment is a practice and a way of life.
As practitioners, Embodiment is our greatest resource and gift.
ATTEND is an online 3-month trauma-responsible, intimate, experiential immersion into unearthing and bringing to life the innate embodied wisdom you already hold. It is not about learning a technique or a formula; it's about making contact with the knowledge of your soul and engaging with the world from here. Cohorts are small- 6 people- to provide customized support for each participant. ATTEND combines group and 1:1 explorations; it's a new way to support practitioners.
What do you wish to embody? How do you desire to express it? How do you inhabit yourself from this place?
Practice Embodiment through repeated group movement gatherings.
In the 1:1 sessions, fine-tune and hone-in on areas you want to deepen into.
Points of Contact will occur using a video messaging app which means you get support when you need it.
Weekly prompts will deepen your Embodied understandings of the practices.
The community forum will broaden the conversations, allowing us to learn with and from one another.
3-month online emergent curriculum
6 – Group Embodiment practices (bi-monthly)
4 – Individual Integration sessions with Yvette
Points of Contact as needed via video messaging
Weekly guided prompts on a community forum
Accompanying Companion Journal

We will explore a variety of movement practices:
Functional Movement – movements that are used in real-life situations. These can help us develop mental and physical capacity and strength.
Task-oriented Movement – movements where you are offered a specific task to perform within multiple variables. These help us focus our mind by engaging our pre-frontal cortex while practicing mindful movements.
Guided Movement* – I will give more specific instructions to help guide a movement journey. These offer you a chance to tap into your imagination and explore somatic storytelling.
Free-form Movement* – self-directed movement with less direction where you get the opportunity to drop in and follow your inner knowing.
Resourcing Movement – all movements can be resourcing. The intention here is to help you return to your body, feel grounded, and support your nervous system.
*these movement styles often take the form of dance.
 Embodiment explorations may include but are not limited to:
contralateral movements
primary reflexes
proprioception
balance work
containing activation
dispersing activation
traversing
grounding
boundaries
oscillation
presence
orientation
tempo & pace
rhythmic movements
closed-chain & open-chain
a practitioner-focused experiential immersion;
an opportunity to re-establish sovereignty within your own body and reclaim your energy
an embodied approach that aligns you with your inner knowing;
a chance to integrate embodiment into your life and work;
a practice in working empathically while maintaining an integrated sense of self;
an exploration of how your nervous system shows up in sessions; ⠀⠀⠀⠀
a space to receive support navigating somatic countertransference;
a community to access your instincts for working more intuitively with your client's bodies.
a formula or prescriptive format;
personal therapy;
an in-depth trauma or nervous system training;
a training that teaches you a method or my way;
for individuals who are not coaches, therapists, or bodyworkers.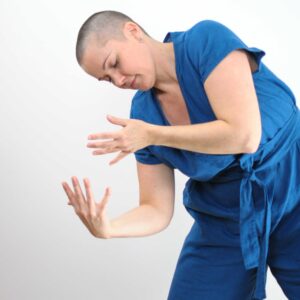 Movement is the way I make sense of the world. It is the language I am the most comfortable listening to and speaking. My offerings culminate my love for music and dance and my various studies in psychology, mindfulness, attachment theory, movement science, sacred movement, energy work, and neurobiology.
I am a genderqueer human of Irish, German, & Métis ancestry. I am in the process of remembering and reclaiming my traditional spiritual practices and unpacking how colonialism shows up in my body and my actions. I grew up on the stolen and shared territories of the Treaty 7 region of Southern Alberta; the Siksika, Kainai, Piikani (Blackfoot Confederacy), the Tsuut'ina, the Îyâxe Nakoda Nations, the Métis Nation (Region 3). I currently live on the stolen land of the skwxwú7mesh nation (Squamish), colonially known as Gibsons, BC.
My most substantial education has come from the wisdom of Elders who grace me with their teachings and clients who honour me with their lived experiences. I began my formal education in my 30's at a university but quickly became disillusioned by the lack of somatic representation in psychology. I pivoted and found a college that allowed me to integrate somatics into every course I took and prioritized students walking their healing journey before stepping into the role of therapist. I have been in private practice since 11/11/11. My most tremendous benefits occurred when I took the step to apprentice or mentor with someone for an extended period. This offering comes from a desire to share that experience with others.
Integrate movement and imagination into your life for the 3-months; supported by bi-monthly movement groups, individual integration sessions and access to me as needed via a video messaging app. Additionally, I will offer weekly movement prompts and writing inquiries to explore; these will be shared on a community forum, allowing participants to learn from one another.
Cognitive understanding of movement can tell you how and why, but only the Embodiment of movements allows you to develop an intimate relationship and understand the medicine offered. This is how you tap into your unique way of relating to and sharing embodiment practices.
Next cohort: Begins Sept 30 – Dec 16
Group Embodiment Practices –  every second Friday – 1hr
4 Individual Integration Sessions – 60 min
~ 1 session before the group begins;
~ 2 sessions at your discretion;
~ 1 session at the end to complete and integrate.
3-months: $1200+gst
Payment plans available