ATTEND: Embodied Mentorship helps therapists shift from insecure and restricted to self-assured and free by progressively dancing your full self back into your practice through a 12-week community-oriented expressive container.
This is not about learning a technique or a formula.
This is about you dropping in and discovering your most aligned way of working with clients. Anchoring into how you experience your practice when you feel resourced and free in your body. With small cohorts of 6 people, you'll have the space to explore your unique expression of embodiment.
"Being able to make a deep inquiry into embodiment has been a gift that I believe will continue compounding over the years to come, with benefits for myself, my clients and my community. I feel more inspired now to approach my work and my life more from embodied love, hope, and presence. I feel myself dropping into my humanness a little more. Thank you, Yvette, for your beautifully relational, decolonizing approach and for sharing this much-needed offering with the community." 
Being a therapist can feel isolating and exhausting.
You work hard to build long-term relational containers for your clients so they feel supported and can tap into their strengths and live a more joy-filled life, yet you seldom have these containers to explore for yourself.
You're tired of feeling limited in your expression and drained of energy as a result of feeling bound by colonial ideas of professionalism. Embodiment can be the access point to bringing all of you back into your practice in ethical and fulfilling ways.
Professional trainings, even somatic ones, often lack embodiment skills. You may find yourself taking training after training, trying to find an embodied sense of ease and sovereignty in your practice. Wouldn't it be nice to choose trainings from a place of passion and not from a sense of lacking?
What if all you need to feel expressive in your practice again is to have a container to practice the art and skills of embodiment where your inner knowing is prioritized, so you are re-integrating yourself back into your practice.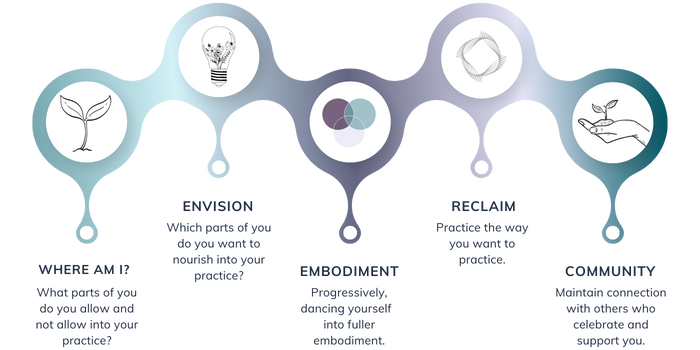 The Difference is Mentorship
Unlike other therapeutic trainings, ATTEND is about you. It isn't about learning a method or formula. It is about you dropping in and discovering your most aligned way of working with clients. Anchoring into how you experience your practice when you feel resourced and free in your body.
Unlike supervision, you don't have to wait for your scheduled appointment to receive support; you will have access to me for support when you need it to help you integrate what you're learning more easily.
Mentorship from a relational and non-hierarchal lens is about awakening your innate wisdom. It is about having a long-term relationship with someone who sees you in all your possibilities. It's about having the support of others to cheer you on in both a professional and personal capacity.
 ATTEND: Embodied Mentorship helps therapists shift from insecure and restricted to self-assured and free by progressively dancing your full self back into your practice through a 12-week community-oriented expressive container.
What You Get with ATTEND:
Opening 1:1 Session – we get to know each other and understand your goals.
12 weeks of Embodied Explorations: 7 of these weeks are Group Explorations
Continual Support from me through Marco Polo so you get support when you need it.
Community Support and accountability through Slack to keep you engaged.
Midway 1:1 Session –  w

e can focus on a concept you want to personally explore.

Companion Journal – to keep you organized and help you clarify your insights.
Completion 1:1 Session – we get to revisit your goals, co-create future steps, and celebrate you!
All of this with a group of humans doing the same to cheer you on in your unique expression.
Each Group Exploration Session will be 90mins – 2hrs and include a movement or dance component, group discussion, and an opportunity integrate the topic of the week.
Dance expresses what is pre-conscious. It taps you into possibilities and unhabitual ways of moving, feeling, and thinking. Dance lets you embody the felt sense of how you want to feel in your practice and in your life .
Testimonial
"This mentorship experience and the work with embodiment on all levels has changed my life. Not only have I built tools over the last 3 months that help me daily in recentering and reclaiming my body, my needs, my choices, my purpose, but also… my body and spirit are singing in gratitude. There is peace and confidence and joy I haven't ever felt. In addition, I am so grateful that my 7-year-old gets to watch this at this stage of development. We are breaking generational patterns of abandoning one's self (for survival, for loved ones, to conform, to prove our worth)."
Testimonial
"…in being invited to move my body intuitively, I realize how much I've been conditioned to not feel freedom/sovereignty in my body, how much I've been "boxed in".
Testimonial
"Yvette has a magical ability to balance their clarity and specific teachings with their intuition, and I loved how they prioritized our freedom to play, explore and learn ourselves within their profound curriculum.
ATTEND helped give me structure and understanding about the sometimes elusive notion of what it means to practice embodiment. It felt effortless while deep and was the type of learning that just shifts and sticks inside.
I highly recommend this immersion for those wanting to explore their relationship to embodiment and reflect on their movement through life with this lens. I found it a safe space, founded on care and community, and I'd do it again and again for deeper rounds of learning."
Testimonial
"To have the space to explore these concepts in a safe community was so valuable. The resonance with others, the shared journey, adds to the depth and truth of these practices. Yvette made this container possible and held us in non-judgment with wise and gentle prompts without overriding our own personal experiences, processing, inner wisdom."
Testimonial
"I'm really grateful that you offered this program and that I chose to do it at this time in my life. I think it was a really valuable paring with all of the school things I was doing at the time and I feel like it gave me a lot of necessary tools to be able to grow into the work I want to be doing in the world in an informed and resourced way."
Testimonial
"ATTEND came at the perfect time in my life. Yvette is an intentional and deeply caring facilitator who offers so much of themselves in the way that they share knowledge. This was an opportunity for deep internal reflection and a chance to live into embodiment practices that I knew in theory but had yet to integrate into my body. It was a tender, challenging, and invaluable experience."
Testimonial
"The group felt easy; Easy, in-terms of not needing to "work" at embodiment, but simply using the space and time given to explore the concept in an intentional way. It is a different, kinder approach. The group felt fun! Less heady than other experiences of learning."
Let's Connect to Make Sure ATTEND: Embodied Mentorship is Exactly What You are Looking for.
Next Cohort: TBA – on hold while I drop into my own year-long apprenticeship.
$2250
Payment Plans Available 
Group sessions occur every second Friday on Zoom.

Up to 14 hrs of group explorations.

Bonus group gathering on Week 12 to celebrate.

1:1's to be booked directly with Yvette.

3 hrs of individual exploration.

Weekly prompts delivered each Friday on Slack. Set aside 15-30 minute to explore this content.

Practices to integrate into your day for deeper embodied understanding.

Personalized Support. I will support you as much as you need to help you inhabit the content and your goals.
Is ATTEND just for therapists?
Absolutely not; this program would be great for coaches, therapists, somatic pracitioners, and bodyworkers who would like to feel more embodied in thier work.
Are the sessions recorded?
Yes, they will be recorded, and you will have access to them for a week. It is highly encourage you to attend as many live sessions as possible, as it will support your embodied learning and group cohesion.
Do I need to be a seasoned practitioner to participate?
Not at all. This mentorship is designed to support new practitioners and seasoned practitioners alike. We all have value to offer, and things to learn, it's a gift to learn with and from each other.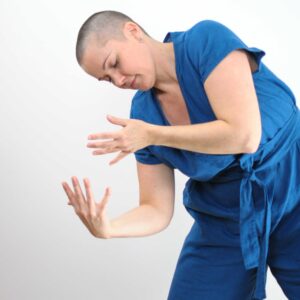 I am a genderqueer human of Irish, German, & Métis ancestry. I am in the process of remembering and reclaiming my traditional spiritual practices and unpacking how colonialism shows up in my body and my actions. I grew up on the stolen and shared territories of the Treaty 7 region of Southern Alberta: the Siksika, Kainai, Piikani (Blackfoot Confederacy), the Tsuut'ina, the Îyâxe Nakoda Nations, the Métis Nation (Region 3). I currently live on the stolen land of the skwxwú7mesh nation (Squamish), colonially known as Gibsons, BC.
I have been in practice since 11/11/11 and spent years figuring it out alone. I felt isolated and unsure a lot of the time. I searched for support and confidence in trainings. They initially fuelled me with excitement, but that excitement soon fizzled out in the vacuum of private practice. It wasn't until I developed long-term relationships with mentors that my confidence and embodied wisdom took root. This offering comes from a desire to share the power long-term relational containers' have on us as humans and as therapists.
Movement is the way I make sense of the world. It is the language I am the most comfortable listening to and speaking. ATTEND is the culmination of my love for the power of music and dance to tap us into possibilities, and our innate embodied wisdom as well as my various studies in psychology, mindfulness, attachment theory, movement science, sacred movement, energy work, and neurobiology.
My greatest education has come from the wisdom of Elders who grace me with their teachings and clients who honour me with their lived experiences. I began my formal education in my 30s at a university but quickly became disillusioned by the lack of somatic representation in psychology. I pivoted and found a college that allowed me to integrate somatics into every course I took and prioritized students walking their healing journey before stepping into the role of therapist.